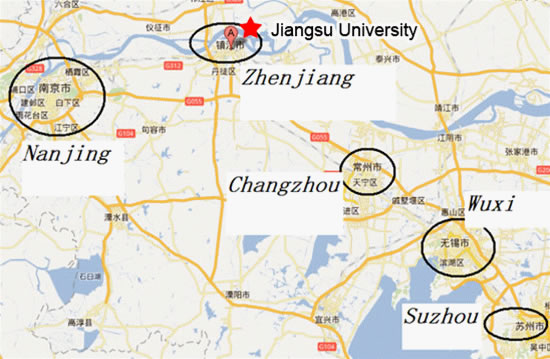 Zhenjiang Scenic pots:
http://www.zhenjiang.gov.cn/en/english/zgzj_ww_english_001.html

This is Zhenjiang, a dynamic and beautiful city, shaped by over 3,000 years of myths, legends and profound history. Zhenjiang is a famous historical and cultural city, that is a top tourist destination in the Yangtze River delta region. Zhenjiang is known for offering a combination of "urban forests" and "grand river scenery" due to the surrounding mountains dotted with marvelous temples and pagodas, mighty rivers and bridges, and natural beauty. Zhenjiang has a very rich culture and history due to its strategic location. It has been associated with many great names throughout history including the Nobel prize-winning American author Pearl S. Buck, Shen Kuo, Wang Anshi, and Liu Xie. Zhenjiang is also a great place for you to "taste Jiangsu." It's known throughout China and the world for its famous vinegar, and as the true home of "sweet and sour." Zhenjiang has a rich and diverse cuisine, and you will enjoy every delicious bite in the place where the British established a consulate.


| | |
| --- | --- |
| | |
| Jiao Shan | Jin Shan |
| | |
| Bei Gu Shan | Xi Jin Port |
Nanjing Scenic pots:
http://english.nanjing.gov.cn/

Historic and prestigious Jinling 48 Scenic Spots are scattered across Nanjing's 10 major scenic zones, including the famed Niushou Mountain Mist for outing in spring, clouds above the Purple Mountain for summer leisure, Qixia Mountain for hiking in autumn and snow of Stone City for winter enjoyment. In addition to a city boasting one 5A-level site of Dr. Sun Yat-sen's Mausoleum and seven 4A-level sites namely the Confucius Temple, Yuhuatai (Rain Flower Terrace), Presidential Palace, Yuejianglou Tower, Chaotian Palace, Xuanwu Lake and Ming Dynasty Culture Village (Yangshan Hill Stele), Nanjing also has 143 star-rated hotels and 436 travel agencies. It has about 30 large tour and festival activities each year, creating a happy and propitious environment both for tourists and local residents.


| | |
| --- | --- |
| | |
| Presidential Palace | Qixia Temple |
| | |
| Confucius Temple | Dr. Sun Yat-sen's Mausolem |
Suzhou Scenic pots:
http://www.eng.suzhou.gov.cn/english/index.shtml

Written historical records indicate that Suzhou has a history of over 4000 years,which entitles the city one of "24 Cultural and Historic Cities " approved as the first group of its kind by the State Council. In today's Suzhou there are 487 cultural relics under municipal-and-upper level protection, of which 15 are under state-level protection and 101 are under provincial protection. Over 60 classical gardens are well preserved and 9 of them are listed in the Catalog of World Cultural Heritage, namely, Humble Administrator's Garden, Lingering Garden , Master-of-nets Garden, Mountain Villa of Embracing Beauty, Surging Wave Pavilion, Lion Grove Garden , Garden of Cultivation , Garden of Couple's Retreat, Garden of Retreat and Reflection. Other famous tourist attractions include Tiger Hill, Panmen Scenic Area,Shihu Lake , Lingyan Hill, Tianping Hill and Yushan Hill. Most scenic spots around the Taihu Lake are also in the city's administrative areas. In addition, thousand-year-old towns like Zhou Zhuang, Tongli and Luzhi feature the waterside sceneries in the Yangtze River Delta. In 1998 Suzhou was awarded "Excellent Tourist City of China ".
Scenery of The Surging Wave Pavilion
Scenery of The Yi Garden
Panorama of The Garden of Retreat and Reflection
Pavilion of Fragrant Simplex and Bamboo
of The Humble Administrator's Garden