Zhenjiang is a small city in Jiangsu province but it is very convenient for you to get here. As a transportation hub in China, Zhenjiang is one of the busiest ports in the nation and is connected to Shanghai and Nanjing by the Beijing-Shanghai rail route, by the Yangtze River and by air.
1. By Air
There is no airport in Zhenjiang, visitors have to transfer from nearby cities in Jiangsu province or Shanghai.
There are 8 airports in Jiangsu Province, such as Nanjing Lukou Airport, Changzhou Benniu Airport, Lianyungang Baitabi Airport, Nantong Xingdong Airport, Suzhou Guangfu Airport, Wuxi Shoufang Airport, Xuzhou Guanyin Airport, Yancheng Airport. Among these, Nanjing Lukou Airport is an international airport with flights to Sydney, Atlanta and Bangkok, etc.
The Lukou International Airport in Nanjing to the west and the Changzhou Airport to the east are merely 80 and 50 kilometers away from Zhenjiang respectively.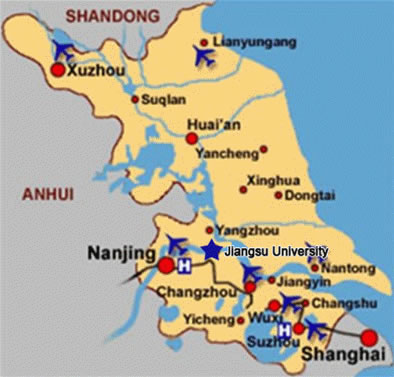 2. By Train
Zhenjiang boasts the advantage of spatial transportation by railway. The Beijing-Shanghai Railway goes through Zhengjiang from west to east. The Beijing-Shanghai High Speed Railway cuts across the area. Nearly every train running along the Shanghai-Nanjing rail line stops at the Zhenjiang Railway Station. There are also trains from Zhenjiang to Shanghai, Tianjin, and Wenzhou.
We have provided you with the railway information search tool below; here you will find it really easy to travel by train to Zhenjiang.
Travel China Guide—Train search tool
http://www.travelchinaguide.com/china-trains/
3. Highways and Expressways
Zhenjiang has a comprehensive road transportation network. The Shanghai-Nanjing Expressway, National Highways 312 and 104 along the Yangtze River all pass through Zhenjiang. The Yangtze River Bridge between Zhenjiang and Yangzhou connects Zhenjiang with the northern Jiangsu and other provinces in central China.
There are three long-distance bus stations with regular service to Nanjing, Shanghai, Suzhou, and Wuxi. You can easy contact them and get the transportation information you want.
Here's a list of the three long-distance bus stations:
Zhenjiang Passenger Transportation Center
Serves coach and charter buses to neighboring cities and other provinces. Call the station or consult your hotel to get information
Address: 67 Zhongshan West Road
Phone: 0086-511-5232762
Zhenjiang South Gate Express Bus Station
Serves coach and charter buses to cities in Jiangsu, Zhejiang, and Anhui Provinces as well as Shanghai.
Address: 25 Jiafang Road
Phone: 0086-511-5029860
Zhongshan West Road Bus Station
Address: Zhongshan West Road
Phone: 0086-511-5621332
4. By Water
The Yangtze River and the Beijing-Hangzhou Grand Canal cross here, constituting the largest and busiest water system in Zhenjiang. So you can also get to Zhenjiang via ferry.
Here you can find some detailed information.
The Yangtze ferry from Shanghai to Chongqing stops at Zhenjiang at 10:45 daily. It continues on to arrive at Hankou at 7:30 on the third day and Chongqing at 11:00 on the seventh day. The downstream ferry heading for Shanghai arrives at 22:00 daily. The journey takes 14 hours. The ferry terminal is in the northwest of the city.
Zhenjiang Port Passenger Pier
Phone: (511) 5627904
Address: Passenger Pier, Zhenyang Road
5. Public Transportation System
As a small city, you can travel around by very convenient public transportation, such as taxis and public buses.
Most taxi rides in Zhenjiang cost less than 15 RMB, and the flag fare is 7 RMB. There are also rickshaws available for an interesting city tour on wheels. The most useful buses are the No.2, which goes from the train station to Jinshan Mountain, and the No.4, which goes to Jiaoshan Mountain.